Full Mouth Restoration at Pickering Dental
Full Mouth Restoration is an umbrella term for a variety of treatments that is offered by our Pickering dental team. These treatments are typically recommended when there are multiple issues affecting your oral health, that should be addressed within a short period of time.
These issues generally develop over a period of time and can be caused by a combination of neglect, lack of care, and improper dentistry. The procedures are typically a combination of both cosmetic and restorative dental procedures and include the following:
And other dental treatments as applicable.
Each individual has a unique set of needs and circumstances, and as such your full mouth restorative treatment will significantly be different when compared to another individual, since it will be tailored made for your needs. In addition, the timeframe and procedures that may be required, will differ between patients in an effort to effectively address the issues that an individual may be experiencing.
Our Pickering dental office will be more than happy to assist you with the different problems that you may have affecting your overall oral health. If you are interested in learning more about what we can do for your oral health, contact us today. Alternatively, you can request an appointment online.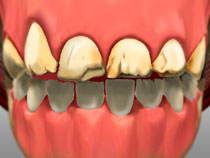 Last Updated On
2020-09-23