Full Mouth Restoration Dentist Pickering - Safavi Dental clinic
Full Mouth Restoration is an umbrella term for various treatments that our dentists in Pickering can apply to your oral health. These treatments are typically recommended when there are multiple issues affecting your oral health that should be addressed within a short period of time.
These issues typically develop over a period of time and can be caused by a combination of neglect, lack of care, and improper dentistry. The procedures are typically a combination of both cosmetic and restorative dental procedures. These procedures can include:
And other dental treatments as applicable.
Not everybody's mouth is the same, so your full mouth restorative treatment will be tailored to your unique needs. The timeframe and procedures will differ between patients to address the issues that an individual is experiencing.
Our Pickering dental office will be more than happy to assist you with the different problems that you may have affecting your mouth. If you are interested in coming in and learning more about what we can do for your oral health, contact us today. Alternatively, you can request an appointment online.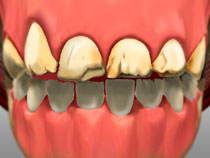 Last Updated On
2020-07-13